Whether it's the freedom to work from anywhere or the ability to spend more time with family, today's workers want more than a traditional 9-to-5 job.
Instead of commuting to an office each day to work from a designated desk, employees want the ability to design a work-life experience that works for them, and for a growing percentage of the workforce, this means working remotely.
Remote work has grown immensely in popularity over the past decade. In fact, according to the US Bureau of Labor Statistics, about 42 million of 144 million US workers could have done their jobs at home in 2018. That's 29% of the workforce!
Despite the growing demand for flexible work options and its many benefits, from increased productivity to cost savings to employee engagement, many companies still haven't fully embraced the concept of remote work.
But as the modern workforce becomes increasingly diverse and more and more companies begin to embrace telecommuting, it's especially crucial today for companies and employees to make sure they have the right tools in place to get work done outside of the office.
In this article, we'll look at 10 remote work strategies including:
There's a lot more to working from home than simply cracking open your laptop from your living room couch. This guide will help you prepare your company in no time and also offer some helpful advice for building an effective remote work culture in your business.
1. Establish flexible communication patterns
When you have a remote team, you're probably going to have teammates in different time zones.
(Twelve-hour differences are the worst.)
So, make sure you have a strategy for how everyone will communicate. Will it be via video calls? Instant messaging? Each one has its advantages, and you should have multiple options for the team so that they can send a quick message if they have a simple question and have a more in-depth conversation over video.
2. Communicate—often
Good communication is an important component of any successful company, but when you're working with a remote team, it's even more critical.
Companies with distributed teams need to have a way to reach all workers with regular, internally coordinated updates about company policies and processes so that nobody is left out of the loop.
And of course, this goes for not only company-to-employee communication but also employee-to-employee communication. Encourage your team to set up regular meetings with each other to not only keep each other updated about projects but also to have conversations and make a little small talk.
3. Train your supervisors
Unless you want to manage the day-to-day for every single person on your remote team, it's best to make sure your main managers and supervisors are trained in handling remote employees.
Since remote work is still a relatively new concept, it's unlikely that you'll have people who are super experienced and know all the ins and outs of working remote (and the challenges that come with it). Think about creating a remote work manual or guidebook so that your managers have a set of guidelines they can refer to and know what to look out for when they're managing remote employees.
4. Go with the flow (intentionally)
Even with a comprehensive remote work plan, you may still run into some snags in your workflow.
For instance, when you're working remotely or collaborating with colleagues in different time zones, it can be harder to coordinate meetings that everyone can attend or stay on top of deadlines.
To help everybody get on the same page, make sure to overcommunicate—set lots of follow-up reminders, track changes to timelines, and always keep your clients and customers informed of any changes or delays.
5. Define your remote work policies
According to Upwork, the majority of hiring managers said they have the resources to hire remote employees—but they don't have the necessary procedures in place. Before transitioning your team to remote work, outline your expectations, share them with everyone on the team, and update them regularly.
Specifically, a remote policy should cover:
Availability. Do your employees need to be online during specific business hours or can they set their schedules?
Tools. Which tools will the team use to communicate and collaborate effectively?
Data management. Which tools will the team use to organize and share documents and information securely?
Productivity. How will the team track progress on projects and measure results?
6. Adjust your hiring expectations
When you're hiring for a remote team, you should be mindful that there are different personalities and qualities that would be especially valuable for these roles.
From being comfortable with autonomy and minimal direction to having the ability to prioritize tasks efficiently, remote work comes with a whole new set of challenges that require certain personality types.
If you want your team—and your company—to be successful, make sure that you communicate this to your HR or recruiting team so that they know to look for candidates who are very self-motivated and strong communicators (as those are two of the most essential skills for remote work).
7. Have the right tools in place
Going remote has unique challenges, but luckily there are many tools that are designed to keep your distributed team connected.
If you can, try to find a tool that combines features that you'd use the most frequently so that you don't have to pay for multiple tools. (For example, Nextiva is one that lets you do multiple things within one app.)
Communication. Email isn't always the best option, so remote teams should opt for communication tools that offer real-time messaging, video call options, and integrations with other apps, like Nextiva:
File management. It's also a good idea to set up a cloud-based file management tool so that everyone can access the docs and information they need at any time. Again, integrations between your apps can be helpful here—Nextiva integrates with cloud storage tools like Dropbox, Google Drive, and OneDrive so that your voice call recordings get automatically saved to those tools.

Productivity and task management. To make sure your remote team is hitting its targets, you'll need a task management tool that lets people easily create, assign, share, and track tasks in any team or conversation. A few popular apps are Asana and Monday.com, but Nextiva all-in-one communication app also has a built-in task feature that lets you create and assign tasks to your teammates within conversations:
Security. Going remote means many team members will be tapping into Wi-Fi networks at cafes, coworking spaces, libraries, and other public spaces to do their work. So, it's important to have an information security policy in place before transitioning to remote work. Make sure your sensitive information is stored in a secure cloud storage platform and remember to use a virtual private network (VPN) when you're connecting to public networks.
8. Maintain your company culture
There are lots of ways to maintain a company culture digitally, even if you won't be seeing your colleagues IRL.
For instance, regular video conferencing, rewards for accomplishments (like gift cards), and having a place for team members to chat casually can help bring employees together: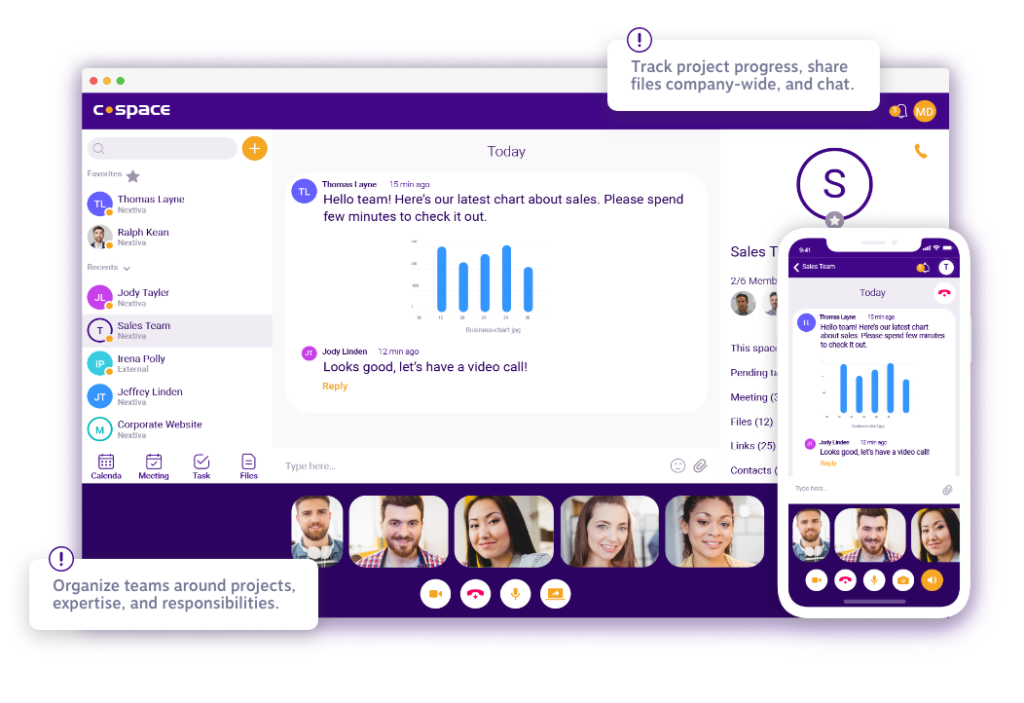 9. Trust and let go
Remote work arrangements thrive when built on trust. After all, there are more ways to measure a person's productivity than the time they spend at their desk. If you're using project management software, then it's pretty clear to see who's accomplishing what and when. To build trust with your remote team, make sure you provide clear instructions and expectations, offer feedback regularly, and avoid micromanaging.
Make your remote work strategies work for you
While the boom in working remotely has only started recently, there's no harm in being prepared.
As workforces become increasingly distributed and digital, making sure your team has the right tools and processes to do their best work from wherever they need to be is no longer a nice-to-have. It's a necessity. Use these strategies to get your remote team up and running in no time.