Effective Management Using Your Phone System
The future of work is now.
As businesses continue to explore staffing options beyond the city or country where their headquarters are—with the help of technology, of course—remote work, or "telecommuting," is really taking off.
Once considered "the future of the workforce," remote work has boomed in popularity over the past five years, growing 44% to count over 4.7 million Americans and 3.4% of the total population:
What's driving the growth? Well, a number of reasons.
First, today's employees are looking for more freedom and flexibility in where and how they work. There are the lifestyle demands of modern employees—family, pets, and health and wellness—and then there are things like the average commute time in the US being 26.1 minutes—for a five-day-a-week round trip, that can add up to 9 days per year.
Research has shown that remote employees are more engaged and productive, reporting a 9% boost in engagement, 13.5% boost in productivity, and a 50% reduction in likelihood they'll quit:
So remote work is great for employees, but now the question is, how do you manage a remote workforce that's scattered around the world?
We'll be looking at five best practices for managing a remote team including how to:
1. Hire with personality and skill set in mind
If you want to have an easier time managing a team, you have to hire the right team first. If you hire the right people who would be naturally good remote employees (self-starters, don't need a lot of direction), you'll find it much easier to manage them later on.
The first step is to ensure you're getting the right candidates in the door. Not everyone is a great fit for remote work—the right remote employee needs to be a strong independent worker, focused, tech-savvy, able to produce impactful work with little direction, and have incredibly strong communication skills. That's already a tall order when you're hiring from your immediate area, but it can be even more difficult when you're attempting to screen from across the country.
The remote-first team at HelpScout recommends writing crystal-clear job descriptions that not only highlight the specific skills and experience you're looking for but also outline exactly what qualities remote team members will need to be successful with your organization.
Social media scheduling software Buffer has had a fully remote team for their entire existence, and they've learned a few tricks about how to hire properly for remote roles. Initially, they screen candidates against their company values by looking at social media posts (how fitting) and analyzing wording in emails.
Then there's Zapier's remote team, which relies heavily on video chat software during the interview process. While phone interviews can provide value early in the screening process, video chat allows hiring managers to better evaluate body language and personality. In addition to that, Zapier also frequently introduces new team members via weekly video hangouts:
Your motto when building a remote team should be, in the words of Zapier CEO Wade Foster, to "hire doers." A doer is someone who will make things happen, even in the absence of direction.
The single most important quality when hiring a remote worker is hiring someone you can trust—to get the work done, to deliver on what they've promised, and to motivate themselves to do their best day in and day out, without you hovering over their shoulder (because you're not going to want to buy that many plane tickets).
2. Help employees feel included
When you're separated from your coworkers by borders, vast distances, or walls, the most important thing you can do is communicate with them. Remote teams need to be empowered to communicate with each other by whatever means necessary—whether it's video chat, voice chat, or instant message, communication will be the foundation that remote team success is built on.
But that's not the only type of communication that's important when you have a remote team.
A study from Harvard Business Review found that remote employees often felt that they were left out of the loop on priorities and decision making, and even that they were being talked about behind their backs. Your employees need to be encouraged to communicate openly and honestly with each other frequently, beyond a once-a-week "check-in" message. Make them feel included.
Luckily, with today's technology, that's never been easier to accomplish. Video chat can help remote teams get valuable facetime with managers and each other (87% of remote staff report feeling more connected to their peers when video is available) while instant messaging platforms (like Nextiva) let them have conversations that transcend different time zones: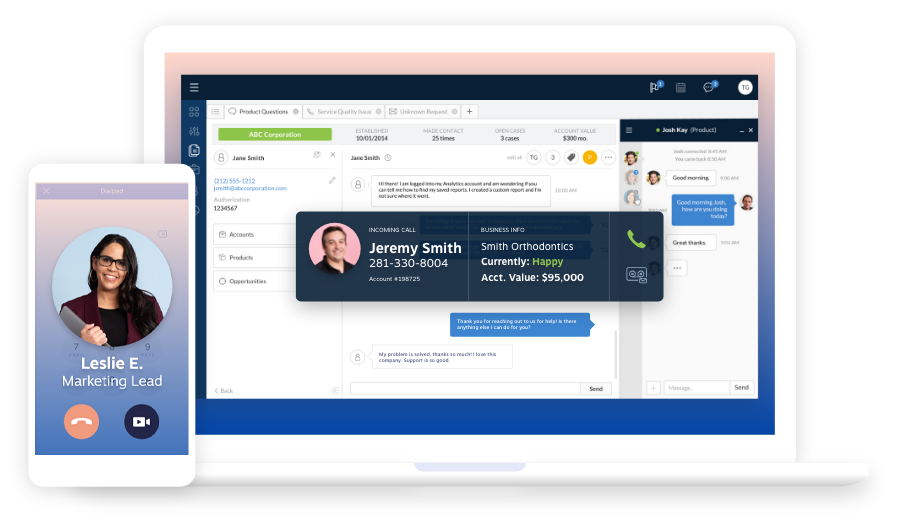 The uses for these technologies go beyond meetings and projects too—remote teams can hold weekly social time, lightning talks, or themed hangouts (feel free to dish on the latest episode of The Bachelor) to increase social engagement. These efforts might seem fluffy on the surface, but fostering strong social connections between team members at work can have a dramatic impact on both employee engagement and productivity.
A study from Gallup found that employees who reported having a best friend at work led to 7% more engaged customers and 12% higher profit. Non-work-related or casual chats can also lead to serendipitous conversations that help drive innovation and new ideas.
3. Make communication a priority
Communication and collaboration are incredibly important in the modern office, but even more so when managing remote teams—set your team up with the tools they need to work together and establish the processes they should follow to make it a smooth process for everyone.
Toptal, a freelance talent marketplace, highlighted the importance of reducing "scheduling tag" for remote teams: "Not so long ago, a remote equivalent of the door knock pop-in was unheard of. Email responses were still slow and long-distance phone calls were expensive. But that time is firmly fixed in the past. Now there are countless tools that make instant collaboration even easier than a walk to the cooler."
"Even if your team is 100% distributed, you rarely need to email someone to schedule a call or meeting to go over something. Just double-check your time zones and knock virtually."
Make it okay for employees to reach out in the moment to get the information they need, or use tools that allow them to exchange the necessary info asynchronously through a team messaging app or project management tool like Trello or Asana:
Make sure you're using cloud file storage (such as Dropbox or Google Drive) too, so that employees can find the files they need without having to chase someone down to locate it on their hard drive.
4. Mind the schedule
It can be difficult enough to coordinate meetings and meetups when you're all under one roof—when you're distributed across multiple time zones, it can get complicated quickly.
For remote staff to feel acknowledged and engaged, it helps if you're not scheduling them for meetings at 10:00 p.m. local time. Make sure you're aware of your team's time zones and working hours (you can usually set these in whichever calendaring software you use), and maximize time where there's overlap in availability.
For example, for staff in San Francisco and Dublin, there's usually a two-hour overlap from 8:00 a.m. to 10:00 a.m. PST where Dublin staff are still in the office. Make sure you're scheduling important team time or departmental conversations during these windows. If you find yourself frequently losing track of your remote team's time zones and availability, tools like TimeZone.io can help:
5. Measure performance
Measuring the "output" of remote knowledge workers can get murky, but again, communication tools can help here.
Use messaging platforms and daily video standups as avenues for team members to provide project status updates and successes (or failures). It's easier to hit your targets if you can keep the team aware of other projects that are being worked on.
Most project management tools like Asana and Monday.com have trackers that show you how many projects are being completed (and how quickly) by teams and individuals.
Manage your remote team effectively, no matter where you are
Remote work is making huge gains in popularity because it's at the perfect intersection of business benefit, employee need, and cultural shift.
And that trend is only going to gain in popularity in the future as more people get used to the idea and figure out that it's a completely doable task with the right tools.
If you want to remain competitive, you'll need to get a handle on how to hire, manage, and retain remote employees now—and if you can get on top of this work-from-anywhere shift, you'll be well-positioned to thrive for many years to come.