If you're on the fence about whether or not remote work makes sense for you or your company, you're definitely not alone.
Fact: the number of companies offering remote opportunities has grown 44% within the past five years.
From increased productivity to workers facing fewer distractions, the benefits of remote work are well-documented.
Couple that with the fact that there are apps and tools that make it easier than ever for companies to manage remote and distributed teams, and it's no secret why remote work is an attractive option for businesses and employees alike.
The thing is, a productive remote team doesn't just happen by accident. You can't send your employees all home with a laptop and monitor and hope for the best.
On the contrary, a remote team's ability to be effective comes down to a combination of planning, leadership, and the right tools.
But what does a successful remote workforce actually look like? Glad you asked.
9 examples of remote teams to inspire your own company
Unless you know what productive remote teams look like, it's impossible to empower your own team to succeed.
Here are nine examples of remote teams that are shining a light on what it takes to make telecommuting work.
1. Toptal hires for specific remote-friendly traits
As a company focused on freelancers and remote hiring, Toptal knows a lot about what makes a strong distributed workforce.
But according to Toptal themselves, it's not necessarily a lack of productivity or software that trips up would-be successful remote teams—it's culture.
"In our view, the unique challenges of managing a distributed team can incentivize the creation of a stronger culture than those that operate face-to-face," says Mark Bosma, Toptal's VP of Sales.
Think about it. When employees don't meet face-to-face or show interest in the day-to-day lives of their coworkers, building relationships can be tough. The same problem rings true for managers looking to get a sense of an employee's personality during the hiring process.
So, Toptal puts culture front and center during hiring and onboarding.
For example, do employees respond to questions with a sense of humor? What are their values? During onboarding, Toptal makes a point to use videos to illustrate how employees interact and engage with each other on a daily basis.
In fact, Toptal prioritizes video above voice calls and instant messaging for both team meetings and one-on-one communication. The idea here is simple: facial reactions and emotions help create connections closer to that of in-person meetings.
Of course, sometimes you need the option to have either a video call or shoot a quick message. To make this easy for your team, choose a tool that has a range of communication options. For example, Nextiva lets you start a phone or video call, share your screen, and even collaborate on docs within your conversations: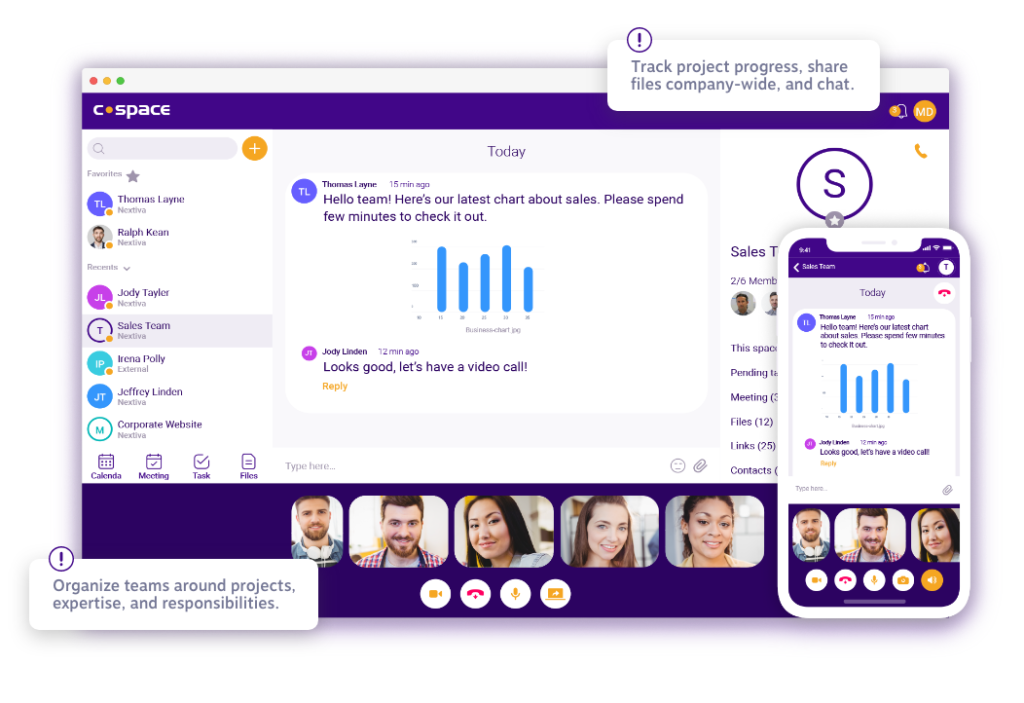 2. Zapier gets familiar with each other's time zones
Zapier is a household name in SaaS with nearly 300 employees distributed across 27 countries.
And although the company acknowledges that one of the biggest benefits of remote work is the ability to hire from around the world, dealing with time zones is a huge hurdle.
Whether it's with your customers or your own team, syncing up time zones, scheduling meetings and employees' availability, and managing communication on all fronts requires planning. Lots of it.
Zapier's team stays connected via instant messaging, which allows teammates to see who's online and available at any given time. Beyond using a communication platform, the company recommends that teams communicate during a weekly team meeting to map out calls and potential cross-team projects that require a bit of creativity around timezone planning:
If you're working with a distributed team, Zapier also suggests familiarizing yourself with GMT or UTC (midnight in London, 7:00 a.m. in Bangkok, and 8:00 p.m. the previous day in New York) to help you better understand what time of day it is for your international teammates.
3. Groove looks for people who respond quickly
According to Groove, so much of a remote team's success boils down to identifying whether or not someone would be a good fit during the hiring process.
Again, doing this is easier said than done when you can't meet face-to-face. This is especially difficult for remote teams who are tasked with identifying specific qualities of potential hires—if they're inexperienced, they might be comparing apples and oranges of what a "good" worker looks like in a traditional setting.
For example, Groove's team first looks at candidates who have previous experience either on remote teams or running businesses themselves. That's because remote workers absolutely must understand how to be self-starters and work independently. They have to be disciplined.
Another critical quality of a strong remote hire is the ability to communicate. This might seem like a no-brainer, but Groove takes response times seriously. In fact, they say that if a candidate doesn't get back to the company within 24 hours of outreach, they won't be getting the job.
Harsh? Not necessarily. To Groove, swift and thorough communication is the cornerstone of a good remote worker. This is further driven home by the company's detailed daily stand-ups via instant message, highlighting what everyone's working on at any given time:
4. Lessonly creates opportunities for teammates to meet IRL
Lessonly is among our examples of remote teams crushing it right now because of their emphasis on making remote workers feel welcome—regardless of geography.
For example, the company encourages distributed workers to attend weekly all-team meetings with the in-house team via video conference so they never feel left out. Lessonly also flies in remote employees (some all the way from Africa) to meet and connect in a real-world setting and get to know each other personally.
Of course, teams aren't required to meet face-to-face to be successful, and sometimes there are budget constraints. But most companies that are experienced with remote work do offer retreats and opportunities for employees to get to know each other better.
These opportunities are more than just fluff: they're a chance to build meaningful relationships that go beyond a job.
5. MURAL makes it easy to brainstorm online
MURAL walks the walk by boasting their own digital whiteboard tool in addition to being a remote team themselves.
Their product is basically a robust visual whiteboard for planning meetings and creating deliverables, both of which are crucial for remote employees. From vision boards to icebreaker photo collages, anything you'd want to do with Post-its and a whiteboard in a conference room can be done online with teammates from around the world.
In terms of what it means to be a successful remote team, MURAL focuses on the importance of what happens between meetings.
For example, what sort of planning goes into any given presentation or stand-up? Who's responsible for doing homework after a meeting? Here's a sample agenda from their eBook on facilitating remote relationships for reference:
For MURAL's team, being productive is not just about having frequent meetings: it's about planning meaningful meetings that actually accomplish goals.
6. Buffer finds the balance between productivity and burnout
Like the other examples of remote teams on this list, the folks at Buffer rely on instant messaging to go back and forth and share updates with each other.
Here's some food for thought, though: according to Buffer's own research, 18% of remote workers struggle with being able to "unplug."
When you're constantly checking your messages and the expectation seems to be that you need to be "on" 24/7, it's understandable why remote workers might feel pressure from their managers. That's exactly why Buffer established a set of 10 "agreements" to set expectations and help workers find the balance between productivity and potential burnout:
The need for these agreements speaks to the importance of not just providing tools to employees, but also understanding how those tools should be used. Combined with a more relaxed culture and an onboarding process that focuses on work-life balance, you can help your remote team use these tools to gather online (while respecting each other's time):
7. Basecamp literally wrote a book on remote work
Perhaps one of the most famous examples of remote teams, the founders of Basecamp literally wrote the book on remote work:
Basecamp co-founder Jason Fried consistently hammers home his belief that face-to-face meetings are notorious time-wasters and that remote work should represent high-quality work. In a similar vein, Jason says that meetings and micro-managers as the two biggest drags on productivity for a team.
The takeaway here is that remote teams absolutely should allow their workers a sense of autonomy.
That said, Jason also points out that trying to manage remote workers who work too hard is a struggle in and of itself. This again highlights the importance of having clear expectations and building a culture that doesn't drive workers to burnout.
The logic here is straightforward: hire well, trust your employees, and give them flexibility—and they'll reward you with good work and loyalty.
8. Hotjar does team-building… virtually
With over 100 employees across a distributed team, Hotjar says that they have to be "very intentional and proactive about building personal connections."
So, how do they make it happen?
Through virtual team-building activities.
Conducting activities via video or conferencing software might take some getting used to, but Hotjar creates a sense of community through a variety of fun icebreaker and team-building exercises including:
"10 things about you" sessions—where workers list fun facts and weird stories to spark conversations during onboarding
Coffee sessions—15-minute meetings where workers run quick presentations about something that they do or learned recently that might benefit the team ("How I organize my emails" or "Stretches I do at my desk")
Wednesday bonfires—company-wide meetings where workers catch each other up on interesting topics or personal growth
Team-building exercises are crucial to effective teamwork—and despite popular belief, team-building is 100% possible even when you aren't confined to the four walls of an office.
Pro-tip: Instead of having a separate video conferencing app and a team message app and a phone calling system… why not consolidate all your communications into one tool and pay less in monthly subscriptions?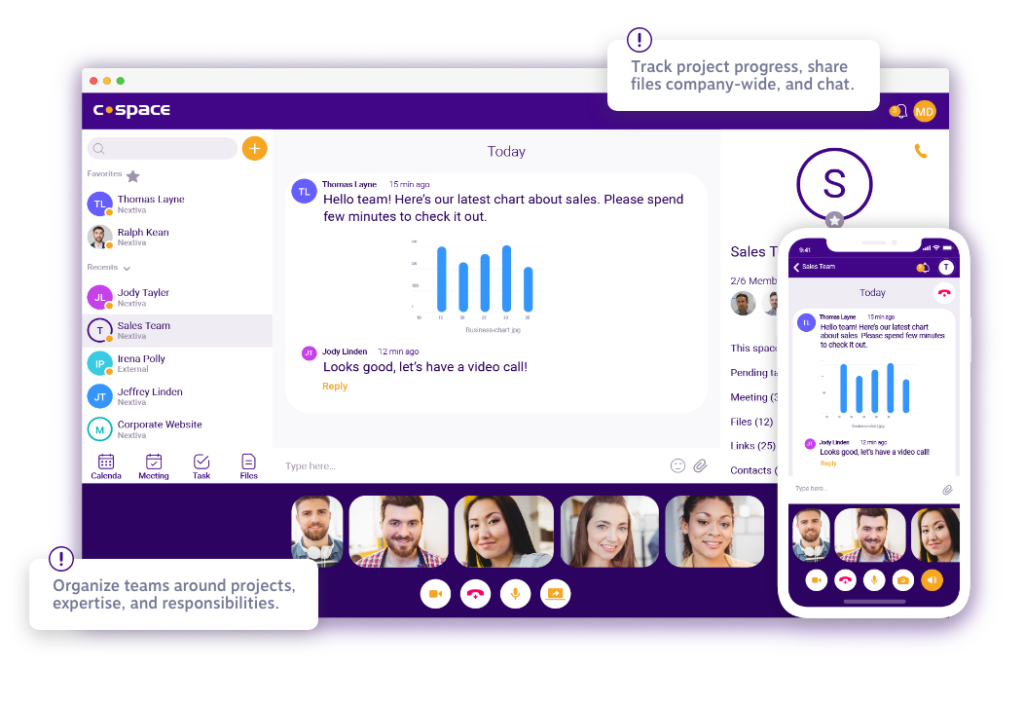 9. Alley uses a tight remote work toolkit
With 70-plus team members distributed across the United States and Canada, Alley acknowledges the key role that cloud tools play in making remote teams work.
In their own eBook on remote work, Alley talks about the need for companies to assemble their own toolkits.
This raises a few questions: What tools are necessary? How many is too many?
Good question. According to Alley, the answer depends on your organization's specific set of challenges and resources. That said, they have three main pieces of advice for putting together a toolkit:
Keep it simple in terms of how many tools you use and the learning curve involved.
Use tools that enable you to easily collaborate and share with clients.
Know when to explore new tools or drop something that just isn't working out.
Alley relies on a toolkit that consists of tools like:
Github, allowing employees a collaborative space to work on and review code
Jira, for project management and organizing team tasks
G Suite, yet another space to collaborate on documents and share files
Having such a relatively compact toolkit—don't forget to have a communication app!—is good for teams both big and small. Why? Because then you won't have to invest in dozens of bloated, expensive tools that overlap in features. Instead you can move toward a remote culture quickly by using all-in-one tools that have a range of features and integrations.
How can you make remote work actually work for your team?
As you can see from all these examples, there's no "right" way to tackle remote work for your company.
That said, there are definitely common threads between our examples of remote teams that are getting it right.
Specifically, companies looking to go remote need to focus on a healthy culture and consistent communication. Rather than expecting employees to "get it" from the beginning on their own, try to help them get there faster by highlighting what you expect and empower your employees with the tools to succeed.